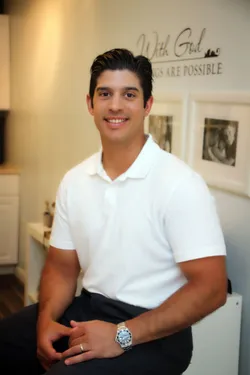 Welcome to Bridgewater Chiropractic!
Dr. Rolando Bello, DC

For more information or to schedule an appointment please call
724-371-0280 or email [email protected]
If you are reading this, I am truly honored you have decided to join my Chiropractic Family. By being here you have taken the first step towards a healthier you and that is half the battle!

At Bridgewater Chiropractic we believe that the combination of mixed chiropractic care, vibration massage therapy, vitamin supplementation and our purification/detox program can "supercharge" your health, mind, body and soul, regardless of ailment, age or condition.
If you are new to chiropractic care, again we hope to live up to your expectations as your family's chiropractor. Although I am a solo doctor, I am fortunate to be affiliated with other medical doctors, physical therapists, acupuncturists and massage therapists in the local area.
My areas of expertise are wide in range, but please know that you and your needs are unique; not only to you, but to me as well. Even if you have a healthcare question you do not think relates to Chiropractic care, please don't hesitate to ask.
Dr. Rolando Bello, DC
Bridgewater Chiropractic
99 Bridge Street, Suite 1
Beaver, PA 15009
VIBRATION MASSAGE THERAPY
Vibration Massage Therapy helps relax the muscles, eliminates knots, trigger points, scar tissue and adhesions thus making it easie

r to adjust patients where they need it most. RRTMs only take between 10-15 minutes yet yields the same results as a Deep Tissue Massage in specific problem areas